Why Solar Should Be Your Next Investment – San Diego
Solar Power The Best Source for a Better Return on Investment (ROI)

Why Solar is a Top Choice for (ROI) and Saving the Environment
 Save money and also help our environment at the same time
 A pollution free way to generate electricity
 Does not emit carbon dioxide or other harmful pollutants in the environment
Checkout the revelation of state Solar ROI ranking based on highly reliable expert's statements:
1. Solar power is now becoming the best source of ROI for homeowners as they can get better ROI as compared to S&P 500 stock index in over 25% of the states. It is really great that solar power beats the S&P 500 for millions of people.
2.In two third of states, Solar provides the better ROI compare to 30-year treasury bonds.
3. In approximate 86% of states, solar ROI beats a 5 year "certificate of deposit" (CD).
4. Based on the assumption used in 2013 Geostellar Solar Index, in only one southern state of "Mississippi", the 25 year ROI is estimated to equal -0.1%.
Keep One Thing in mind: For over 30 years, solar panels have actually been utilized to generate electricity; even a regular homeowner in Mississippi could save money with solar power sooner or later.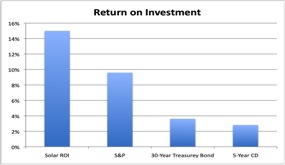 Upshot of Solar Power: Besides all that, this amazing renewable source beats many other existing and highly recommended investment options such as stocks, bonds and CDs. If you are also looking for better investment then nothing is better option than "Solar Power". So get ready to invest in solar power for a better RIO, retirement, college money for your kids, or simply to make the most of your money.
Let's emphasis on the broken records with the following facts:
 Solar panels cost lower than grid electricity for many of us
 Average saving is greater than $60,000 in Hawaii
 In 3 of the 4 most populous states in country, average saving using solar panel is above than $30,000
 Save thousands of dollars with solar panels
Other benefits of solar panels providing various advantages; some of them are as follows:
 No fuel needed – Thus you can contribute towards fuel costs or problems that often occur with the transportation
 Various incentives are offered by Federal Government to those who are using solar energy
 No need to worry about unpredictable increases in fuel costs as solar power doesn't require fuel
 Save your electricity bill as you can power your house and devices with free and renewable solar energy
 Depending on household energy usage, the investment in solar panels can be recovered in very little time.
 High ROI on solar roofing panels – After initial investment on solar panels and installation, the energy produced is virtually free.
So, are you ready to invest on the most renewable source "Solar Power" for maximum return? Click here now!